about j.p. cardillo
Joseph P. Cardillo and Son, Inc. was established in the early 1900's by Italian immigrant Dominic Cardillo performing excavation and masonry. Joseph P. Cardillo came to the United States of America at the age of 4. Joseph, a graduate of Wakefield High School continued his education at the Wentworth Institute of Technology.
Joseph then went on to serve his country in WWI. After returning home, Joseph and his brother Tony started Cardillo Brothers performing masonry, excavation and trucking across Eastern Massachusetts. A few years later, Joseph became the sole owner and started Joseph P. Cardillo & Son Inc. based in Wakefield, MA.
When Joseph passed away in 1959 his son David P. Cardillo, a Northeastern Grad working for the town of Stoneham Engineering Department, took the reins and built the business into a full-scale construction company, performing masonry, trucking, road construction, underground utility and building work. Joseph P. Cardillo and Son, Inc. is currently led by fourth generation Mark J. Cardillo, a graduate of Wentworth Institute of Technology, Mark has been running the company since 2000.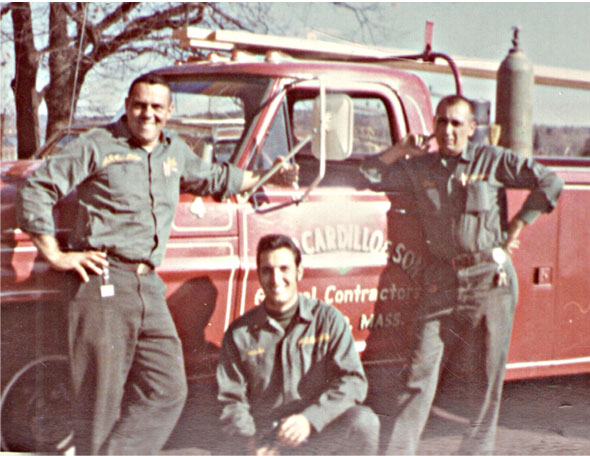 safety statement
It is the policy of JP Cardillo & Son Inc:
That the safety of our employees, and the public, is of the highest priority. Accident prevention shall be considered of primary importance in all phases of operations and administration. It is JP Cardillo & Son Inc's intent to always maintain effective standards that will guard against injuries and illnesses occurring on the job.
To maintain open communication between management and staff on matters pertaining to safety. All employees are encouraged to express their concerns or suggestions to help promote safe work practices and conditions.
To provide current safety news, safety activities and reading materials, signs, and posters, which will be easily accessible to all employees.
To meet our commitment to safety, management will:
Promote a positive attitude towards accident prevention
Establish and insist upon safe work practices and conditions
Provide appropriate supervision, training, and monitor conformance to quality standards
Ensure employees and other persons understand and accept their responsibility to promote a safe and healthy work place
Ensure that contractors working on our premises have, and follow, appropriate safety procedures
Qualifications & Certificates
J.P. Cardillo & Son is Mass DOT & NH DOT certified for Water/Sewer mains ,Drainage ,Pump Stations ,Road Resurfacing, Highway Construction and Bike Paths
Member of UCANE (Utility Contractors of New England)
Signatory with IUOE (International Union Of Operating Engineers) Local 4